Expert Design & Build
Let us create something beautiful for you!
Retaining Wall Contractors in Wake Forest 
As the number one retaining wall specialists in Wake Forest, North Carolina, we are the team with a proven track record of high-quality, completed projects for many years since we started our business. We can always guarantee that you will get the best customer care and wall designed specifically for your needs and budget.
If you want to know more about our past projects, take a look at Our Gallery.
We create reliable retaining walls in Wake Forest
Installing a functional and reliable retaining wall is no easy task. Although it is possible to install it yourself, the chances of it failing within a couple of months or years is high. If you really want to save money, make sure that you will install your retaining wall right the first time. This is where we can help you.
We offer the following services to our clients: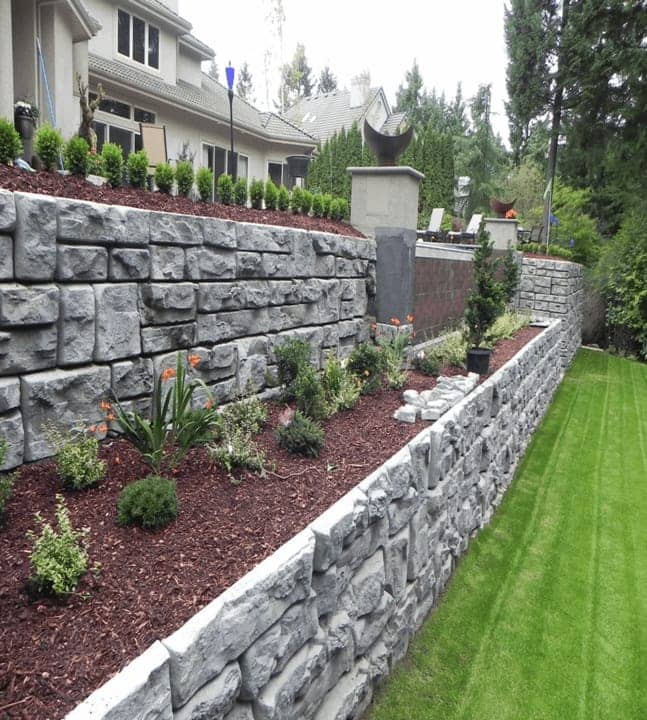 We can build any style wall that meets your needs
Retaining walls can be complex to design and build.  Use our years of experience to create something that looks elegant yet is extremely purposeful.  
Whether you're in need of a cantilever wall, gravity, piling, or anchored retaining wall, we can certainly help you.  Call us today for a free estimate!
What are the benefits of having a retaining wall?
Gravity Retaining Wall Installations
Best for: Property owners who need a wall that will be economical for a height up to 3 meters.
Cantilever Retaining Wall Installations
Best for: Property owners who need a wall that will be economical for a height up to 10 meters.
Pile Retaining Wall Installations
Best for: Property owners who need a wall that will be economical for a height up to 6 meters. Can be used for both temporary and permanent projects.
Anchor Retaining Wall Installations
Best for: Property owners who need a wall that need taller walls that can support tons and tons of loose soil.
Are retaining walls necessary?
If the whole concept of retaining walls is new to you, let our crew assure you that a gravity, cantilever, pile, or anchored wall, will be worth your time.
Make your property stand out with a beautiful retaining wall
Retaining walls create great landscaping effects and can really leave lasting impressions.  Having a beautiful landscape and retaining wall can help increase the value of your personal and commercial property.  Call us today for an estimate!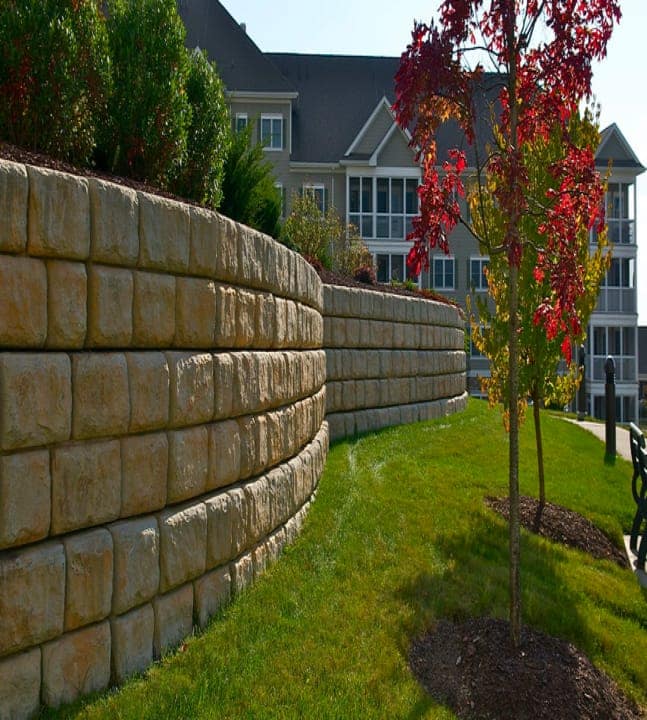 What are the benefits of having a retaining wall?
Still not sold on the idea of spending your time and resources for installing a retaining wall? here are some of the advantages you can get when you have one on your property.
1.     You can prevent erosion
The primary reason for the installation of retaining walls is its function. They "retain" or hold back soil or water by keeping them enclosed in a particular area. As a result, this prevents them from being transported from one place to another. If you have loose soil on your property, drainage problems will be an issue you have to face every day. Installing a functional wall will solve this issue.
2.     You can increase the appeal of your exteriors
Aside from its usual functions, retaining walls have evolved into one of the tools that can also serve as a décor to any property. Due to the reason that there are a lot of materials to choose from, they can be added to your exteriors in a way that will complement your style.
3.     You can use your space more effectively
If you live in a sloped area, it can be difficult for you to make use of your space properly. Even if you want to build a patio or do some gardening, it can be impossible if your place is flat. This is where a retaining wall can be handy. For many residential projects, making use of a gravity wall will be more than enough to fix the issue.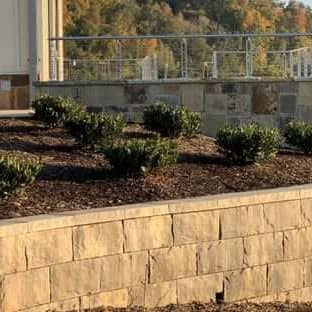 4.     You can secure your safety and protect your family
If you live near a hill or a significantly sloped area, you may be worried about landslides and other events such as earthquakes or heavy storms. After all, there are some instances where this particular event endangered a family when the loose soil fell over their property. When you let our team do your project, we will design a durable wall that will protect you and your property.
5.     You can use it as a boundary
Do you have extra space on your land? Or perhaps, you may have a property that is not being used at the moment? In some cases, there is the possibility of your neighbors using your valuable space. These situations may also result in squatting activity in your area.  Having a retaining wall can serve as a boundary that can signify your ownership in a beautiful and discreet way.
6.     You can use it to raise the value of your property
It does not matter if you live in an erosion-prone area or not. As long as your retaining wall is designed and installed properly, you will be able to receive a higher value once you have it appraised by a professional.







Design Build
We can help you design the perfect retaining wall for your particular need and space.  We'll build to specs too!

Eco Friendly
Create an area that is just like nature intended.  We can help you create perfect balance with flowers, trees and shrubs.

Create Appeal
Make your home or commercial space stand out with appeal.  Retaining walls are great attention-grabbers!
Call us now for a free assessment
With the help of our experienced retaining wall specialists, you will be able to enjoy your property without worrying about erosion, flooding, trespassers, and other problems. Call us now at (919) 420 – 3620 to get an assessment or quote for free – no obligations required.
If you want to visit our office, we are open from 9:00 AM to 5:00 PM, Mondays to Saturdays. However, for the safety of both parties, we are only able to accommodate clients with appointments. Fill out our online form to secure a slot.
As a local company that provides the highest quality retaining wall installations in town, you can always rely on our team.
Our On Going Projects...
Cantilver, Gravity, Piling & Anchor Walls - We Can Do It All!