Umstead State Park - what to do when you get here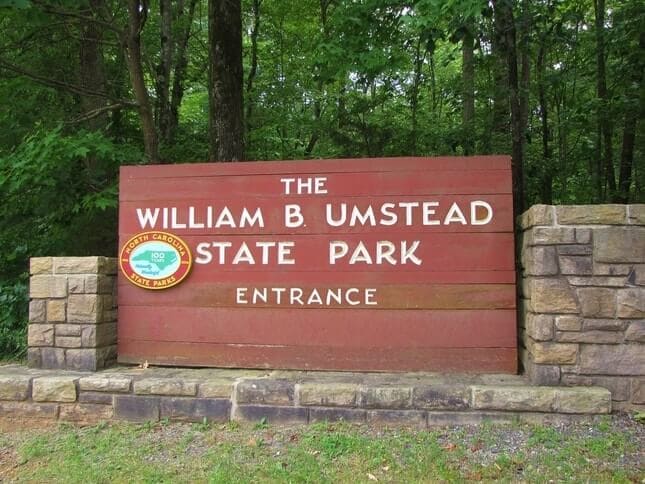 There is nothing more spectacular than enjoying mother nature for what it is.  Being among the trees, animals, rivers and sky is extremely peaceful and can bring a sense of calm to an overly hectic day.
One of those great places is Umstead State Park, it's such an amazing place and close to home!  With miles of hiking trails and a beautiful river that runs through the park, it's a great escape from all the hustle and bustle and an easy way to find peace and serenity.
With over 5,000 acres of land, it's a great place for families to get away from technology and enjoy outdoor sports, cooking, hiking, canoeing, kayaking, bird watching, and so many other things.
How much does it cost to get in?
There are no fees or costs to enjoy the park, however, if you choose to rent a boat through the park, they do charge a rental fee.  Boats are available for rent from April 1st to October 31st and can be checked out at the visitor center.  Boats are $7 per boat and can be rented out from 8:30am to 3pm.  All boats must be returned by 4:15pm.
If you're planning on hosting an event, such as a wedding, banquet, company party, or an athletic event, a permit must be purchased.  Go here to download an application for a permit.
William B. Umstead State Park has over 20 miles of hiking trails that can be enjoyed.  Some trails are short and sweet and others are longer go deeper into the woods.  Either way, there is something for everyone.
Note: biking and horseback riding are prohibited on the trails.  If you have a horse or a bike that you want to use, you must use one of the multiuse trails.  Keep in mind that if you have a horse and want to go riding, you must be able to provide negative results for equine infectious anemia.
| Trail Name | Surface | Length | Difficulty |
| --- | --- | --- | --- |
| Company Mill Trail | natural surface | 5.80 miles loop | moderate |
| Inspiration Trail | natural surface | 0.40 miles loop | easy |
| Loblolly Trail | natural surface | 2.70 miles one way | moderate |
| Multiuse Trails | - | 13.00 miles | moderate |
| Oak Rock Trail | natural surface | 0.60 miles loop | easy |
| Pott's Branch Trail | natural surface | 1.30 miles loop | easy |
| Sal's Branch Trail | natural surface | 2.80 miles loop | moderate |
| Sycamore Trail | natural surface | 7.20 miles loop | moderate |
Are there bears in the park?
In general the answer is "NO", however, black bears have been sighted on the park grounds in years past.  To my knowledge, the last time a bear was sighted was in 2009 when the city believes he was just passing by.
It's always a good idea to be on the lookout for any type of wildlife (including bears).  Always be loud and let your presence be known to them.  Black bears are generally not aggressive towards people and will typically run away to avoid conflict.
That being said, your safety is always most important.  You can always take bells with you on your hiking trails along with an air horn.  In the very rare case that you do come into contact with a black bear, you can always use bear spray as a deterrent.
Can you do kayaking in the park?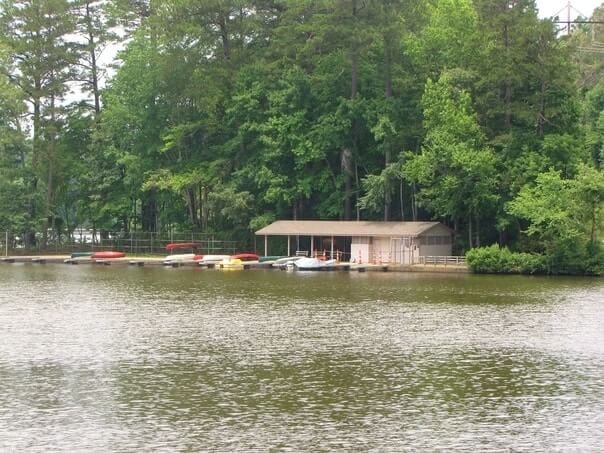 Yes, you are welcome to kayak at Big Lake, which is one of the three man-made lakes at the park.  You can also canoe and rowboat, though you'll have to bring your own equipment if you want to kayak.
Umstead State Park is very pet friendly, and they want you to enjoy your leisure time with your pooch, but they do have some rules that you'll have to follow:
Your pet should be leashed with a maximum of 8' in length

He/she must be under control at all times

Must stay in designated pet-friendly areas

You must clean up after your pet when necessary
If you're a pet owner, as we are, you should already be very familiar with these rules.
From Chapel Hill
Approximately 28 minutes (20.6 miles)
Merge onto I-40 E towards Raleigh and go straight for 8.8 miles

Exit 283 to merge onto I-540 E Toward US-70 for 4.5 miles

Take exit 4A toward US-70 E/Raleigh for 0.8 miles

Merge onto US-70 E/Glenwood Ave and go straight for 0.9 miles

Make a right onto William B. Umstead State Park Rd and continue for 0.4 miles until your destination is reached.
From Dorothea Dix Park
Approximately 24 minutes (13.8 miles)
Start off SE toward Umstead Dr

Make a right onto Umstead Dr for 0.3 miles

Make a right turn onto Hunt Dr and continue straight for 0.4 miles

Make a left onto Western Blvd going straight for 2.4 miles

Merge onto I-440 and continue for 4.0 miles

Take exit 7 for US-70 W for 0.3 miles

Make a left turn onto NC-50 N and follow the road for 6.0 miles

Make a left hand turn onto William B. Umstead State Park Rd and travel 0.5 miles until you reach your destination
From our office at Retaining Wall Experts of Raleigh
Approximately 17 minutes (10.2 miles)
Make a left turn onto Wake Forest Rd and continue straight for 0.8 miles

Merge onto I-440 W and take the interstate for 2.4 miles

Take exit 7 B to merge onto NC-50 N toward Crabtree Vly and continue straight for 6.5 miles
Make a left turn onto William B. Umstead State Park Rd and continue straight for 0.5 miles until you reach your destination