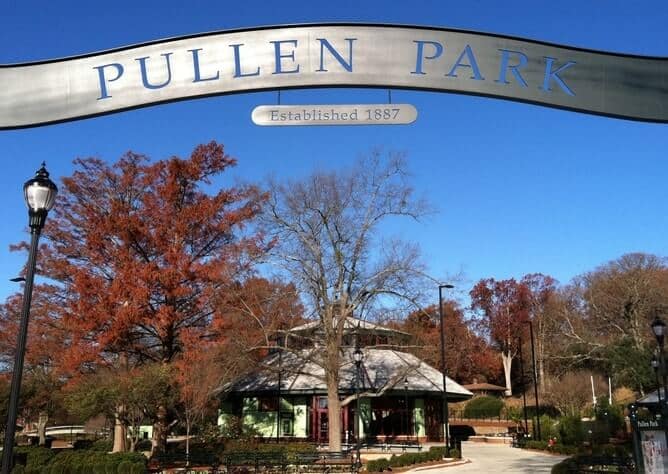 For those who are looking to do unique things in the Raleigh area, Pullen Park is a must see.  Considered the oldest park in North Carolina, the fifth oldest park in the country, and the 16th oldest park in the world, there are so many fun things to do in the park.
Immediately upon entering the park grounds there is plenty of parking spaces available, even during the weekends.  When walking into the park, you'll cross train tracks for a miniature train that is great for both children and adults.  There are great cafes to enjoy coffee, snacks, etc.
If you enjoy beautiful scenery (who doesn't?) there are great paths to walk and bike along a plentiful river, you can even use kiddie boats and paddle boats, and, of course, the famous Gustave A Dentzel Carousel.  Beautiful trees line the paths and river, and you just can't get enough of the great views.  On warm, sunny days, the park has a great energy, and you can see people of all ages enjoying what the park has to offer.
If you've never been to Pullen Park, there is truly something for everyone.  You'll enjoy your time there and soon enough you'll find yourself going back to visit again.
The park is located adjacent to the NC State University on Ash Ave.  It covers the area between Western Boulevard and Hillsborough Street.  It's a huge 66-acre park and there are signs pointing to the park once you're in the area, so it's really hard to miss it.
Is it free to enter the park?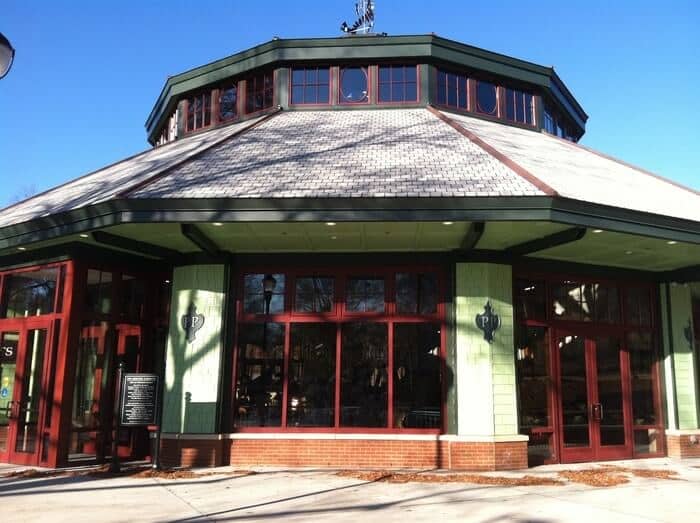 Yes, admission to enter the park is absolutely free, but you must purchase tickets to get onto the amusement rides.  Tickets are $1.50/person and can be purchased on the RecLink website.  This purchase price applies to all amusement rides including the carousel, kiddie boats, and train.
Is alcohol allowed in the park?
No, alcohol is not allowed at the park.  The city of Raleigh allows alcohol at some public parks with the purchase of a permit, however, Pullen Park is not one of them.  You are allowed to have alcohol at the Pullen Arts Center with a permit.
Are there picnic tables at the park?
Yes, there are many picnic tables in the park.  Some are absolutely free and are taken on a first come first served basis and other picnic tables must be reserved and rented out for a minimum of two hours.  You can make reservations at the RecLink website.
Here is an extremely comprehensive list of all the picnic areas at Pullen Park.  This list is taken directly from the Raleighnc.gov website.
Can we bring our dogs to the park?
Dogs are allowed in most major pathway areas, but are prohibited in the children's areas such as the children's play areas, carousel, boat rides, and the train ride.
Does Pullen Park have any trails?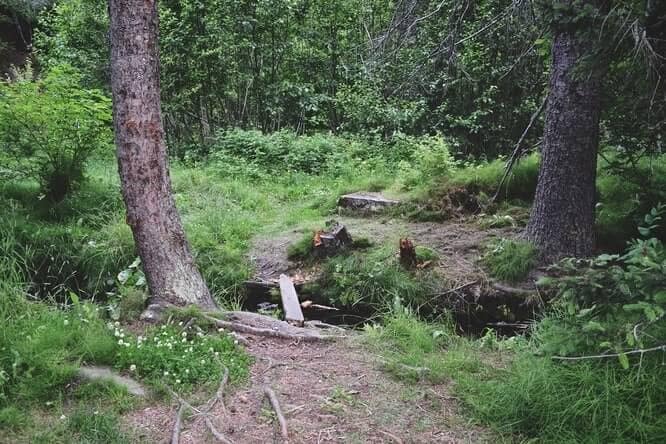 Absolutely!  In fact, the East Coast Greenway is a 3,000 mile long system of trails running from Maine to Florida and it runs right through Pullen Park.  One of the most visited trails is the Cameron Loop which is a 3 mile trail and is rated as an "easy" trail.  It has an elevation increase of 216.5 ft and has an estimated total steps of 7,000. 
From Northwest Raleigh
Approximately 23 minutes (9.0 miles)
Head east on Wellington Downs toward Pleasant Pines Dr

Make a right onto Pleasant Pines Dr for 0.5 miles

Turn left onto Davis Cir and continue straight for 0.1 miles

Turn right onto W Millbrook Rd for 5.8 miles. This street will eventually turn into Blue Ridge Rd

Make a left onto Western Blvd going straight for 2.3 miles

Turn slight left onto Ashe Ave for 0.2 miles

In 187 ft turn left at Adaba Dr

The park will be on your right hand side
From Southeast Raleigh
Approximately 15 minutes (9.0 miles)
Head northeast on Jones Sausage Rd for 1.4 miles

Merge onto I-40 W and continue straight for 4.3 miles

Exit 299 toward Person St for 0.4 miles

Merge onto Hammond Rd and go straight for 0.9 miles

Turn left onto Martin Luther King Jr Blvd for 1.7 miles

Turn right toward Ashe Ave then another right onto Ashe Ave again

Pullen Park will be on your right side
From the offices of Retaining Wall Experts of Raleigh
Approximately 15 minutes (5.8 miles)
Head southwest toward Wake Forest Rd

Make a left on Wake Forest Rd for 2.4 miles

Merge onto Capital Blvd via ramp to downtown for 1.9 miles

Street turns into N Dawson St for 0.2 miles

Turn right onto W Edenton St for 0.2 miles

Make a right onto Hillsborough St for ½ mile

Take the 1st exit at the traffic circle and stay on Hillsborough St

Turn left onto Ashe Ave and continue straight for 0.4 miles

Make a right turn and a quick left onto Adaba Dr

Pullen Park will be on the right hand side