JC Raulston Arboretum in Raleigh – Info you should know before you go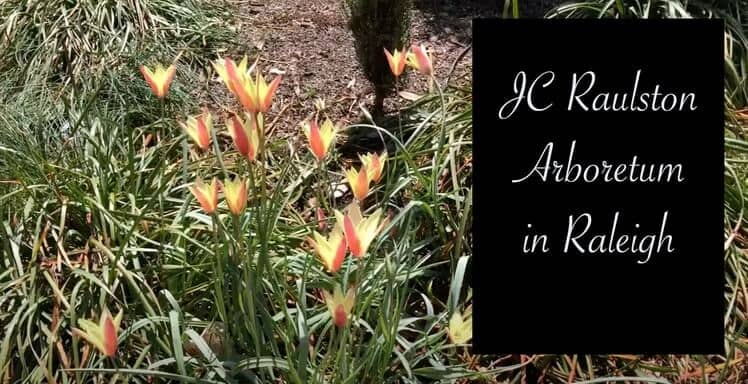 If you find yourself with some extra free time and are looking for something different to do with your family or friends then the JC Raulston Arboretum could be a great choice for you!  This arboretum is nationally acclaimed for having an incredibly diverse and large collection of landscape flowers and plants that are all specifically for use in the southeast.
Homeowners, renters and even young children can all appreciate the colorful arrangement of beautiful flowers and plants that can be found in this eight acre garden.  Not only that, but they have beautiful structures, like retaining walls, that display the flowers and shrubs very nicely!
The arboretum operates daily as follows:
Monday – Friday: 9am to 4:30pm
Saturday and Sunday: 10am to 6pm
Bobby G. Wilder Visitor Center:
Monday – Friday: 9am to 4:30pm
Saturday and Sunday: 10am to 6pm
Ruby C. McSwain Education Center is permanently closed
How much is admission into the arboretum?
The JC Raulston Arboretum does not charge a general admission fee, although donations are encouraged and appreciated.  Parking is also free and available on the paved lot adjacent to Beryl Road.
If you'd like a guided tour, the arboretum can gladly accommodate that, however, arrangements need to be made 1 month prior to your visit and the fee is $5.00 per person with a 10-person minimum.
You're also welcome to rent out some of the facilities for business events, conferences, personal parties, weddings and more.  To get the process started, call the rental coordinator at (919) 513-7457 or email them at jcarentals@ncsu.edu.
Are dogs allowed in the arboretum?
The arboretum tries its very best to keep its plants, shrubs, trees and flowers in pristine condition, so unfortunately, pets are not allowed.  Service animals are permitted.
What kind of events do they currently have?
You can find events for nearly everyone's level of expertise.  From the occasional gardener to the professional horticulturalist, there are events daily ranging from pruning theory & technique to propagating plants from seeds.
Directions to the arboretum
From Millbrook
Approximately 15 minutes (9.2 miles)
Merge onto I-440 W and continue straight for 6.1 miles

Take exit 3 toward Meredith Coll for 0.2 miles

Turn left onto Hillsborough St and go straight for 0.3 miles

Make a right hand turn onto Beryl Rd and go straight for 0.5 miles

Turn left and continue straight until you reach the arboretum
From Lake Benson Park
Approximately 26 minutes (12.3 miles)
Head north toward Buffaloe Rd for 0.2 miles

Make a left hand turn onto Buffaloe Rd for 1.6 miles

At the traffic circle take the 2nd exit onto Vandora Springs Rd and go straight for 0.4 miles

Make a right hand turn onto Old State Rd and go straight for 1.7 miles

Make a right onto US-401 N going for 1.2 miles

Make a slight left onto Wilmington St for 2.6 miles

Make a right onto Martin Luther King Jr Blvd for 0.2 miles and then a left for 0.6 miles staying on MLK Jr Blvd

Continue onto Western Blvd for 2.2 miles

Make a right turn onto Gorman St for 0.1 miles

Take a left hand turn onto Jackson St for 0.4 miles

Right turn onto Method Rd and go straight for 0.5 miles

Left onto Beryl Rd for 0.4 miles

Turn left and continue to the arboretum
From our office
Approximately 13 minutes (8.0 miles)
Head southwest toward Wake Forest Rd

Make a right hand turn toward Wake Forest Rd for almost 300 feet

Make a left onto Wake Forest Rd and go straight for 0.8 miles

Merge onto I-440 W and continue straight for 6.1 miles

Take exit 3 toward Meredith Coll for 0.2 miles

Make a left onto Hillsborough St going straight for 0.3 miles

Turn right onto Beryl Rd and continue straight for ½ mile
Make a left and go straight until you reach the final destination