Expert Design & Build
Let us create something beautiful for you!
Retaining Wall Contractors in Durham
We strive to be the number 1 retaining wall installers in Durham. If you are wondering how it is possible for a family operated company to be the lead in the industry, we are proud to give our entire crew the credit for our success.
We are lucky to have various professionals on our team: installers, architects, structural engineers, and other specialists. This is what made us complete high-quality retaining wall installations all over the city and nearby areas. Are you experiencing some problems with a sloped area on your property? Contact the best contractors that are reliable and efficient.
Call us now at (919) 420-3620 to have your own wall installed. We are confident with our expertise that will surely result in your satisfaction.  We have years of practice in building various types of walls.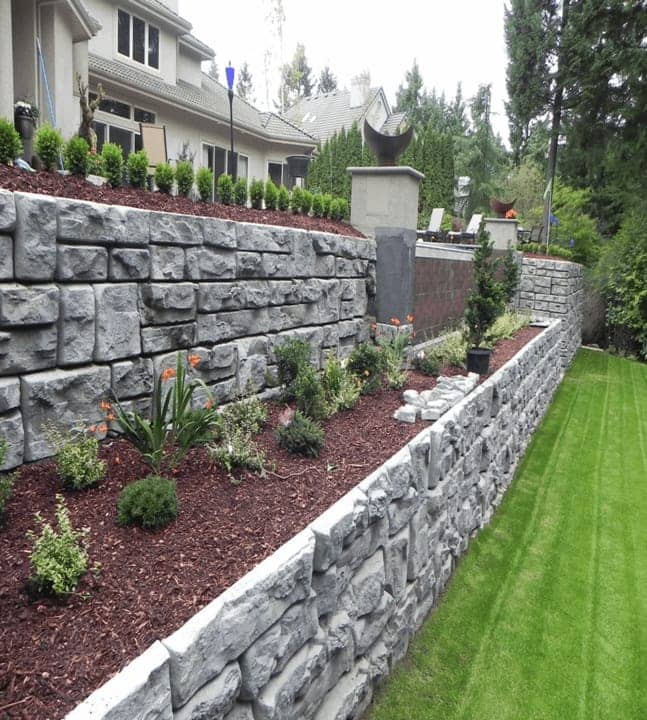 We can build any style wall that meets your needs
Retaining walls can be complex to design and build.  Use our years of experience to create something that looks elegant yet is extremely purposeful.  
Whether you're in need of a cantilever wall, gravity, piling, or anchored retaining wall, we can certainly help you.  Call us today for a free estimate!
What is the purpose of a retaining wall?
Retaining walls are popular for many reasons. Aside from being able to hold back soil to prevent erosion, they can also:
Increase the value of your property
If you live in an area that has poor soil or is prone to erosion, having a retaining wall on your property can absolutely increase its value once you have it appraised. Apart from its function, many people would prefer a property with it installed, which is what professional appraisers consider.
Segment your area
Retaining walls are also great for gardening and other lawn projects. Due to the reason that they are highly effective in holding back soil, it will be possible to make use of the other spaces in your property that were just wasted before.
Make your area more appealing
Depending on your style and preference, there are a lot of materials, shades, and designs you can choose for your retaining wall. With the help of our skilled contractors, we will be able to suggest a design that will complement our area while still being functional.
Make your property stand out with a beautiful retaining wall
Retaining walls create great landscaping effects and can really leave lasting impressions.  Having a beautiful landscape and retaining wall can help increase the value of your personal and commercial property.  Call us today for an estimate!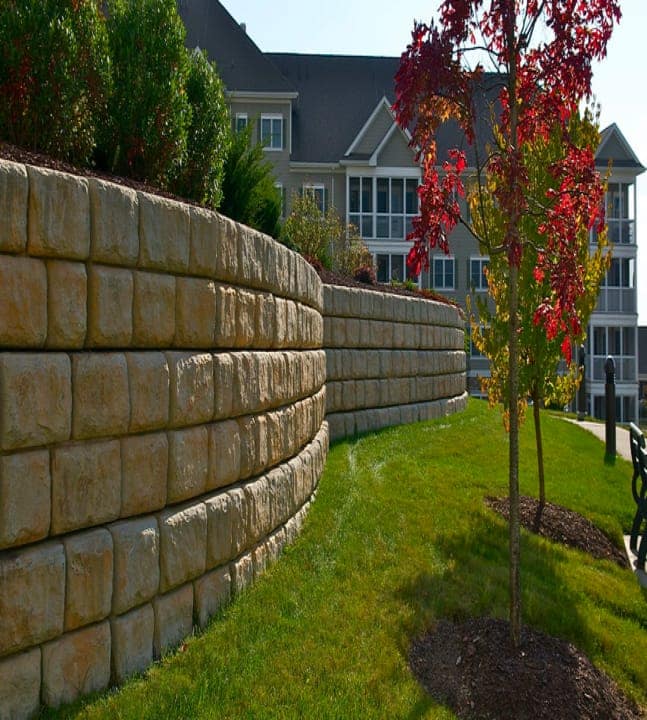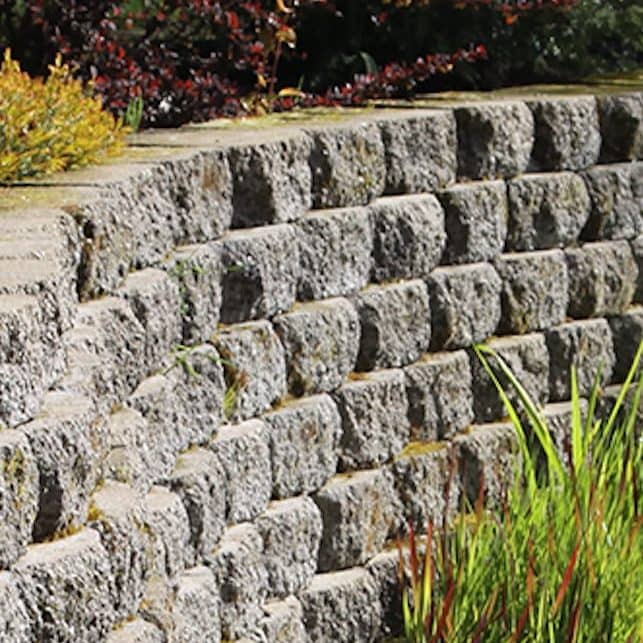 How much does a retaining wall cost?
There are several factors that will affect our rates. However, we are still confident that we will still be able to offer reasonable rates that are fair for the work we do.
Here are some of the factors that will determine our pricing:
Type
If you need a simple gravity wall, the price you have to pay will of course be cheaper than the cost of having an anchored wall installed.
Due to the reason that "advanced" types of retaining walls require more experience and knowledge and will also take more time to finish, it is only normal for the simple walls to be lesser in price.
Material
Do you want to use stone or brick for your retaining wall? Or is gabion enough for your style? Depending on the material we have to use, it can be cheaper or more expensive. If you only need a wall for design purposes, you may be able to choose the material.
However, there are certain limitations as it will not be possible to build a tall wall using stone for your safety, no matter how attractive they are.
Dimensions
Obviously, the wider and taller the wall is, the more expensive it will be. When you work with our team, we will make sure to install it carefully.
Structural reinforcements
If you need a tall wall or a wall that will be able to hold back tons and tons of heavy soil, we may need to install more support during the installation. Although this makes the project more expensive, it is also a way of making sure that the wall will last for a long time.
Decorative touches
Leave the design to us, all you have to do is tell us what you want and we will get it done. Do you prefer patterned walls? Or do you want a wall that will make your exteriors pop? Our expert crew will make this possible.

Design Build
We can help you design the perfect retaining wall for your particular need and space.  We'll build to specs too!

Eco Friendly
Create an area that is just like nature intended.  We can help you create perfect balance with flowers, trees and shrubs.

Create Appeal
Make your home or commercial space stand out with appeal.  Retaining walls are great attention-grabbers!
We design & build high quality walls in Durham
When you entrust your project to us, you can be confident that we will build a retaining wall that will be perfect for what you will use it in. Do you need one to control erosion? For an appealing garden? Or for increasing appraisal value? Just tell us what you need and we will make sure to use our knowledge in building a wall that will last.
Our On Going Projects...
Cantilver, Gravity, Piling & Anchor Walls - We Can Do It All!