Expert Design & Build
Let us create something beautiful for you!
Concrete Retaining Wall Contractors in Raleigh
Do you need a retaining wall for your residential or commercial property? You may know that concrete is the material that is mostly used for various projects. Most of the retaining walls built using concrete are highly durable and reliable, but this will only happen if they were installed by a dependable company.
We are the company that has been installing retaining walls in Raleigh, North Carolina. If you need one in the vicinity, call our crew for superb work. Since we started our local business, we never failed to provide our excellent services for property owners who need a retaining wall for erosion control, landscaping, increasing appraisal value, and more.
Why concrete is the best material for your retaining wall
Concrete is not included in most modern construction projects without any reason. Some of the benefits of installing a retaining wall using concrete are the following:
Compared to what it was before, concrete mixes in the present are proven to be more reliable and durable due to the enhancements on their mixture. Obviously, when it comes to using them for a retaining wall, they must be strong enough to support tons of soil.
Depending on your particular needs, concrete is a material that is flexibly used for various projects. Hence, if you need a wall for gardening, segmenting, or controlling erosion, they can be the material you can rely on. Generally, concrete is best for walls that are around 4 feet.
There are many options to choose from
For people who want to customize their walls to complement their property, this will not be a problem when using concrete. You can choose from various shades and patterns that will surely make your exteriors stand out.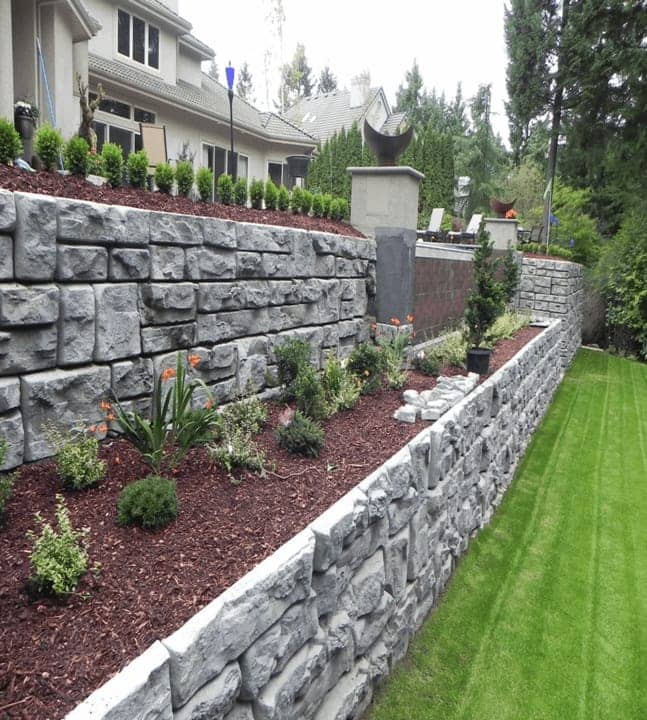 We can build any style wall that meets your needs
Retaining walls can be complex to design and build.  Use our years of experience to create something that looks elegant yet is extremely purposeful.  
Whether you're in need of a cantilever wall, gravity, piling, or anchored retaining wall, we can certainly help you.  Call us today for a free estimate!
How much will it cost to install a concrete wall?
Although concrete is not generally the cheapest thing you can use for building a retaining wall, it is the best material that is known for having a high support capacity. Also, they have a high resistance to sliding, overturning, and other load resting capabilities that most owners have to consider when choosing their retaining wall. 
There are several factors that can affect how much you have to pay to have a concrete wall, such as:
The type of retaining wall
There are various types of retaining walls, and the most popular ones are the gravity, cantilever, pile, and anchor wall.
Gravity walls are the standard retaining wall type that relies on their own weight for support, while anchor walls have supports such as cables for more resistance. Hence, a gravity concrete retaining wall will be cheaper than one that needs to have anchors.
The type of concrete to use
There are two types of concrete we use in installing walls: Concrete blocks and poured concrete.
Depending on your needs, using one may be better than the other. If you have a large-scale project that needs more support and durability, poured concrete is the way to go. If you only need your wall for small-scale projects and residential use, concrete blocks will be more than enough. When it comes to pricing, poured concrete is more expensive than the blocks, as they need more preparation and will require more expertise to install.
The condition of the area
The terrain and soil conditions in your area will increase the difficulty of the project.
Hence, if your area is steep, this will also mean that it will need various tools and equipment to install a wall in your property. Also, challenging areas require more knowledge and training, which will also make a change in the pricing. When you work with our crew, rest assured that you can get the best value for your hard-earned money.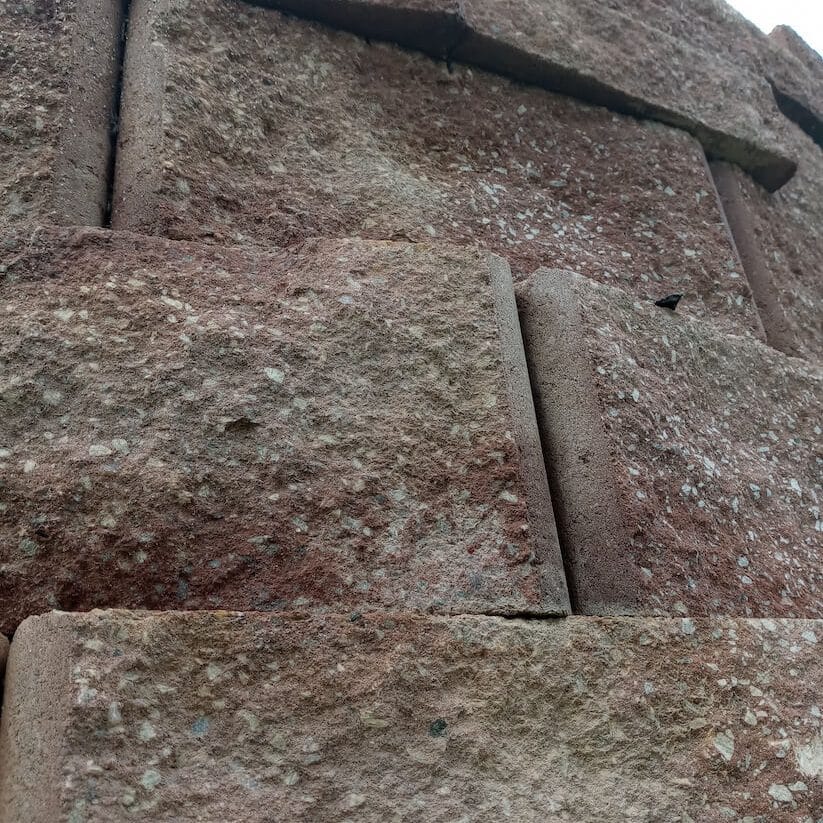 The dimension of the wall
Retaining wall installations are usually priced per square foot.
The smaller the dimensions of your retaining wall are, the less you have to pay for our services. There is no need to worry, however, as it is not our style to discriminate between small and large projects. We will always give our 100% effort in every task we do.
For our installation, we usually charge from $15 to $75 per square foot. As mentioned above, there are factors that can determine the exact price it will cost for your project. If you want a quote, do not hesitate to call us for an accurate estimate.
Are concrete retaining walls expensive?
The cost of a concrete retaining wall can vary depending on several factors, such as the size of the wall, the design, the location, and the contractor you choose to work with. However, in general, concrete retaining walls tend to be more expensive than other types of retaining walls, such as timber or gabion walls.
The main reason why concrete retaining walls are more expensive is due to the materials and labor required to construct them. Concrete is a heavy and durable material that requires specialized equipment and skilled labor to install. The cost of the concrete itself can also be higher than other materials, such as timber or rocks.
In addition, the design and engineering of a concrete retaining wall can add to the overall cost. Depending on the location and the intended use of the wall, it may need to be designed to withstand significant pressures and loads, which can require additional reinforcement and materials.
Despite the higher cost, concrete retaining walls are often preferred due to their durability, strength, and low maintenance requirements. They are also able to withstand harsh weather conditions and can last for many years without needing repairs or replacements.
If you are considering a concrete retaining wall for your property, it is important to work with a reputable and experienced contractor who can provide you with a detailed estimate of the costs involved. They can also help you choose the best materials and designs for your specific needs and budget, ensuring that you get the most value for your investment.

How to remove efflorescence from concrete block walls?
Efflorescence is a white, powdery substance that can appear on concrete block walls, particularly those that are exposed to moisture. It is caused by the movement of water through the concrete, which brings salt to the surface, where it crystallizes and forms a white powder. While efflorescence is not harmful to the concrete itself, it can be unsightly and difficult to remove. Here are some steps to follow for removing efflorescence from concrete block walls:
Clean the surface: Before you can remove the efflorescence, you will need to clean the surface of the wall. Use a stiff brush or a power washer to remove any loose dirt or debris. Be sure to wear protective gloves and goggles during this step.
Apply an efflorescence cleaner: There are a variety of commercial efflorescence cleaners available on the market, or you can make your own solution by mixing equal parts water and white vinegar. Apply the cleaner to the affected areas of the wall, following the manufacturer's instructions or allowing the vinegar solution to sit for 10-15 minutes.
Scrub the surface: Once the cleaner has had a chance to work, use a stiff-bristled brush or a scrub pad to scrub the surface of the wall. Be sure to work in a circular motion and apply firm pressure to help loosen and remove the efflorescence.
Rinse the wall: Once you have scrubbed the entire surface of the wall, use a hose or power washer to rinse away any remaining efflorescence and cleaner. Be sure to rinse thoroughly to prevent any remaining cleaner from leaving a residue on the surface.
Allow the wall to dry: After rinsing, allow the wall to dry completely before painting or sealing the surface. This will help prevent future efflorescence from forming.
We design and build high quality yet affordable walls in Raleigh
When it comes to anything retaining wall-related, we are the professional crew that can help in designing and installing the wall that will fit your needs and budget. For more information about our services, do not hesitate to talk to our team. We will be happy to answer your concerns and questions.
Start building your dream retaining wall by calling us at (919) 420-3620 or filling out our short online form. When you put your trust in a company that is proven to be reliable and honest, you can expect superior walls made to last. Contact us now and receive an assessment for free, no obligations necessary.

Design Build
We can help you design the perfect retaining wall for your particular need and space.  We'll build to specs too!

Eco Friendly
Create an area that is just like nature intended.  We can help you create perfect balance with flowers, trees and shrubs.

Create Appeal
Make your home or commercial space stand out with appeal.  Retaining walls are great attention-grabbers!
Our On Going Projects...
Cantilver, Gravity, Piling & Anchor Walls - We Can Do It All!