Retaining Wall Contractors in Raleigh
Do you have the need to have retaining walls constructed on your property? Are you looking for a contractor that will be able to help you with your project?
There are many reasons why homeowners want retaining walls on their commercial or residential property. It can add so much appeal and impact to your outdoor landscape that can also help with tasks such as preventing soil to be eroded or being washed out during floods.
No matter what you want your wall to do, we can help you with the planning and construction of your project while making sure it will not only be nice to look at but will also do its function well.
What is a retaining wall?
A retaining wall is a specially constructed wall that is commonly placed outdoors, though in the present, can also be used indoors as well. They are made to withstand extreme pressure and are ideally strong and rigid. Retaining walls can be made using different materials such as concrete, stone, and brick that will fit the look of any home and property.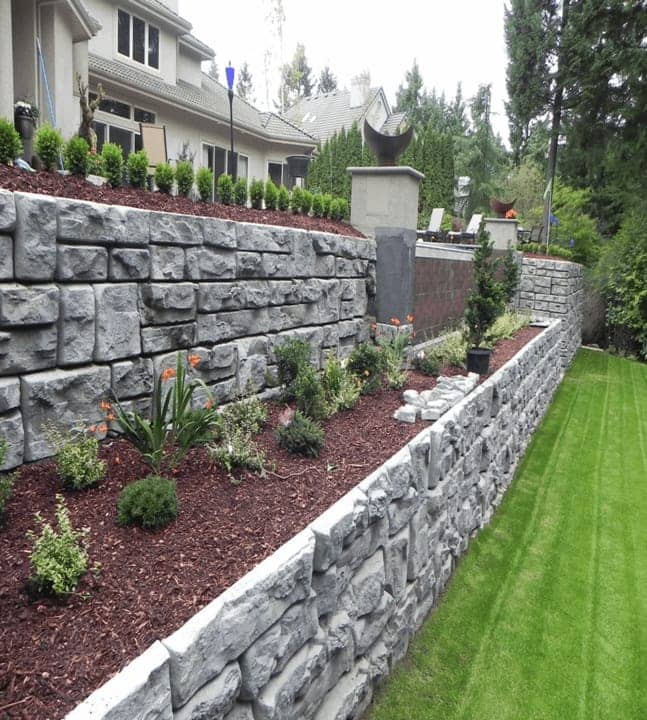 We can build any style wall that meets your needs
Retaining walls can be complex to design and build.  Use our years of experience to create something that looks elegant yet is extremely purposeful.  
Whether you're in need of a cantilever wall, gravity, piling, or anchored retaining wall, we can certainly help you.  Call us today for a free estimate!
What are the benefits of having a retaining wall?
If you are wondering whether a retaining wall project is worth the money, we can definitely say that it is. There are many advantages in having a retaining wall constructed which is why many home and business owners.
Retaining walls add visual appeal
Probably the main reason why most homeowners and establishments construct retaining walls is to add visual appeal to their property. These walls are very attractive and can come (or be painted) in different colors that will surely catch the attention of onlookers. When done properly, retaining walls can easily be the statement piece for your lawn.
Retaining walls help control flooding
In places where flooding can happen, locals have decided to have retaining walls built on their property to help protect their property from the unfortunate waters.
Retaining walls help slow down soil erosion
Soil erosion will eventually happen as years pass with the natural land movement as one of the reasons why, but you can find ways to slow it down. When you have a retaining wall, it can help prevent your soil to be washed off to other areas. This is helpful especially in lawns and gardens that have special soil on them, after all, you would not want to get the soil you bought to be washed out when it rains.
Retaining walls help establish boundaries
Retaining walls can be a very effective and discreet way of marking the boundaries of your property. When you are having a problem with neighbors that are occupying some of your areas, retaining walls will keep them away and prevent them from using your space.
Make your property stand out with a beautiful retaining wall
Retaining walls create great landscaping effects and can really leave lasting impressions.  Having a beautiful landscape and retaining wall can help increase the value of your personal and commercial property.  Call us today for an estimate!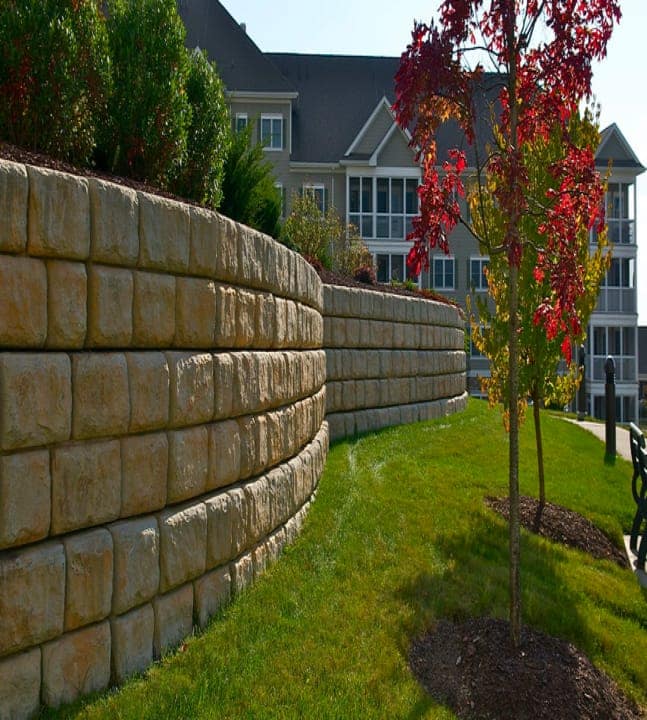 Looking for the best retaining wall builder in Raleigh?
Who We Are
We are a team of professionals doing landscaping projects in Raleigh, North Carolina, since 2010. We have been trained in a variety of practices and are equipped with the necessary tools that can guarantee the completion of the ideal project our customers want us to do.
No matter what your landscaping needs are, we will be able to help you, whether it is for your residential or commercial property. We will make sure that we are all in, from the start to finish.
Why should you trust us?
Our team is trained and experienced.
 We believe in honest and constant communication.
We know how important it is for contractors and customers to have crystal clear communication to avoid mistakes.
 We have stellar reviews.
We are thankful for the nice comments from our patrons.
 We offer great prices.
We will always have reasonable rates and also offers a free consultation and quote estimates.
 We use high-quality materials.
Our team will use quality materials that are proven to be durable but would not break the bank.







Design Build
We can help you design the perfect retaining wall for your particular need and space.  We'll build to specs too!

Eco Friendly
Create an area that is just like nature intended.  We can help you create perfect balance with flowers, trees and shrubs.

Create Appeal
Make your home or commercial space stand out with appeal.  Retaining walls are great attention-grabbers!
Here are the services we do best.
Planning and conceptualization services for your retaining wall
Some customers come to us wanting to have a retaining wall built but do not have a clear vision of what they want yet. If you want us to help you in creating the ideal concept for the structure of the wall, we would be happy to help you.
It is important for you to know and visualize how your retaining wall will look like after it is finished. After all, you would obviously want to like how it looks. We can show you pictures of our finished projects and incorporate them with the specifics you have in mind. You can also tell us the material you want your wall to be.
Here are some of the materials that are commonly used for retaining walls:
Concrete blocks – They are usually gray in color but can be painted in different shades. Perfect for owners on a budget
Stone – A bit more expensive but is very high in appeal.
Brick – Low maintenance and durable.
Retaining wall construction and installation
When the concept is done, all that's left to do is let us make your vision into a reality. We will secure the materials and do the job onsite. Depending on several factors such as the difficulty of the design, size, and the material that will be used in building your retaining wall, it can take a day or more to finish a project.
Types of retaining walls:
Gravity Walls – The type that is usually used in most small-scale projects and functions to hold the soil in place. Can be made with any material.
Piling Walls – Often made from steel, wood, or precast concrete.
Cantilever Walls – Is L-shaped and consists of a base and stem.
Anchor Walls – This type is usually used as a front base to retain higher loads.
Want to have beautiful and functional retaining walls?
When you are planning to start working on your landscape and want to make a statement, give us a call and we can talk about your project. No matter what type, material, and function you want your retaining wall to have, we will be your partner in the whole process from planning up to installation.
Talk to our landscapers by giving us a call at this number or by scheduling an appointment using our online contact form.
Our On Going Projects...
Cantilver, Gravity, Piling & Anchor Walls - We Can Do It All!